Industrial Collaboration
Rare Metal Workshop
For over 20 years now, Dr. Toru H. Okabe has been consistently pursuing research on refining/recycling of "rare metals," variously called "specialty metals" or "less-common metals." He has expended considerable effort in developing new and environment-friendly recycling technologies for precious metals and for rare metals such as niobium, tantalum, tungsten, and rare-earth metals. He has also been keen on developing new technologies for processing future (or advanced) materials such as titanium, with the ultimate goal of realizing a processing technology that will transform rare metals into commonly available metals.
In 2002, Dr. Okabe established the "Rare Metal Workshop" (or Workshop on Rare Metals) as a part of the Special Research Group organized by the Foundation for the Promotion of Industrial Science (F.P.I.S), with the objective of facilitating collaboration between industry, government, and academia. Since its establishment, more than 55 workshops have been organized and conducted at the Institute of Industrial Science. The number of participants in each of this workshop in the recent years has been about 100 to 180, and a cumulative total of over 5000 people have participated over the span of 11 years, with most of the participants coming from industrial sectors.
     The activities of the "Rare Metal Workshop" act as an effective bridge between the industry and academia working in the field of non-ferrous metal production, and they also facilitate networking with the government and media. In addition, the workshop acts as one of the central body of information on rare metals and a fruitful meeting ground for industrial collaboration.


<![if>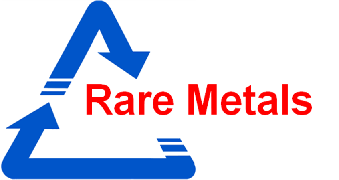 <![if>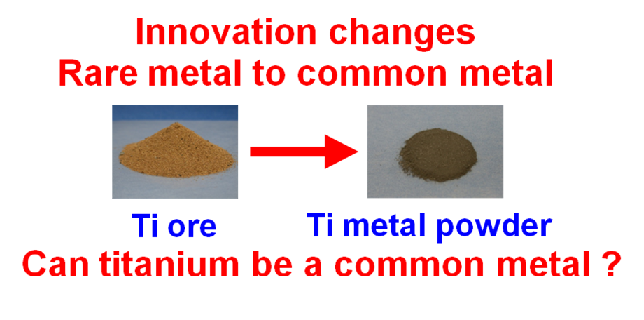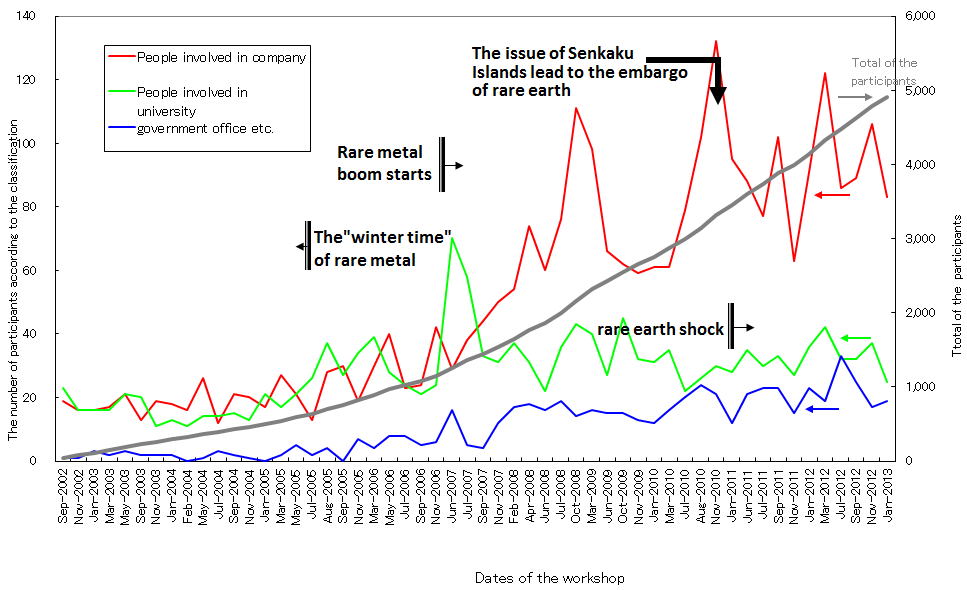 Table Number of participants for Rare Metal Workshop
Dates of the workshop
People who registered
Participants
Classification
Accumulated
total
Company
University
Government office etc.
1st
2002/9/20
47
43
19
23
1
43
2nd
2002/11/15
48
33
16
16
1
76
3rd
2003/01/10
49
35
16
16
3
111
4th
2003/03/19
50
35
17
16
2
146
5th
2003/05/27
58
45
21
21
3
191
6th
2003/09/04
43
35
13
20
2
226
7th
2003/11/26
50
32
19
11
2
255
8th
2004/01/16
56
33
18
13
2
291
9th
2004/02/05
55
27
16
11
0
318
10th
2004/05/14
61
41
26
14
1
359
11th
2004/07/09
70
29
12
14
3
388
12th
2004/09/10
69
38
21
15
2
426
13th
2004/11/26
78
34
20
13
1
460
14th
2005/01/14
77
38
17
21
0
498
15th
2005/03/04
76
46
27
17
2
544
16th
2005/05/13
122
47
21
21
5
591
17th
2005/07/04
137
41
13
26
2
632
18th
2005/08/09
154
69
28
37
4
701
19th
2005/09/30
163
57
30
27
0
758
20th
2005/11/18
178
60
19
34
7
818
21st
2006/03/10
203
73
30
39
4
891
22nd
2006/05/26
233
76
40
28
8
967
23rd
2006/07/28
240
55
23
24
8
1,022 
24th
2006/09/29
248
50
24
21
5
1,072 
25th
2006/11/16
257
72
42
24
6
1,144 
26th
2007/06/08
301
115 
29
70
16
1,259 
27th
2007/07/27
332
101 
38
58
5
1,360 
28th
2007/09/28
348
81
44
33
4
1,441 
29th
2007/11/09
369
93
50
31
12
1,534 
30th
2008/02/08
411
108 
54
37
17
1,642 
31st
2008/04/25
427
123 
74
31
18
1,765 
32nd
2008/06/13
460
98 
60
22
16
1,863 
33rd
2008/07/25
501
131 
76
36
19
1,994 
34th
2008/10/10
554
168 
111
43
14
2,162 
35th
2009/03/06
606
154 
98
40
16
2,316 
36th
2009/06/26
624
108 
66
27
15
2,424 
37th
2009/10/09
647
122 
62
45
15
2,546 
38th
2009/11/27
654
104 
59
32
13
2,650 
39th
2010/01/15
676
104 
61
31
12
2,754 
40th
2010/03/19
693
112 
61
35
16
2,866 
41st
2010/07/02
728
121 
79
22
20
2,987 
42nd
2010/08/27
792
152 
102
26
24
3,139 
43rd
2010/11/19
886
183 
132
30
21
3,322 
44th
2011/01/14
910
135 
95
28
12
3,457 
45th
2011/06/29
960
144 
88
35
21
3,601 
46th
2011/07/26
969
130 
77
30
23
3,731 
47th
2011/09/30
1,027
158 
102
33
23
3,889 
48th
2011/11/12
1,039
105 
63
27
15
3,994 
49th
2012/01/13
990
150 
91
36
23
4,144 
50th
2012/03/30
1,033
183 
122 
42
19
4,327 
51st
2012/07/13
807
151 
86
32
33
4,478 
52nd
2012/09/28
846
146 
89
32
25
4,624 
53rd
2012/11/30
811
160 
106 
37
17
4,784 
54th
2013/01/11
905
127 
83
25
19
4,911 
Total
2,806 
1,528
577
4,911